The Heights House Boutique Hotel, Venue and Gathering Space recently opened in downtown Raleigh. If you're looking for romantic, classic and old-world charm wedding venue in Raleigh, look no further than this historic beauty. The Italianate mansion was formerly named Montfort Hall and was built in the mid-1800s. Owners Jeff and Sarah Shepherd have poured their heart and soul into restoring her every beautiful feature. Most notably, the rotunda and accompanying stain glass as well as original floors and windows. It's truly stunning and a wedding photographer's dream!
Jeff and Sarah have a real passion for pouring into their local community and looked to Raleigh's most talented to fulfill the meaningful details and guest amenities. Cup of coffee? Pour yourself some Counter Culture Coffee and pair it with a Boulted Bread pastry. Their espresso machine in the breakfast area is neighbor to a soft pink built in shelf full of delicate glassware and looks right out of an Architectural Digest "Breakfast of Dreams" article. Ready for a cool afternoon treat in the Raleigh summertime? LucetteGrace's Macaron Ice Cream Sandwiches. You know turndown service is going to be wonderful if it's adorned by Escazú Chocolates.
I recently toured the venue with an engaged couple to help the solidify their vision for hosting a 100 person wedding next summer. Donna of Heights House was a warm and inviting guide around the property. It was special to be invited to share my perspective as their wedding photographer. The house in unlike any other Raleigh wedding venue. It's majestic lawn, elegant common spaces, hallways, staircases, nooks and crannies are begging to lend their historic with a touch of modern beauty. There are so many different combinations you could create for event flow. Cocktails on the lawn or cocktails in the parlor? Dinner under the canopies of towering Magnolia's or intimately beside of floor to ceiling windows in the house? As a wedding photographer — I am absolutely smitten.
I am thrilled to share some photographs of The Heights House hotel as a helpful planning tool to other couples who are also drawn to the inviting intimacy of the property for their wedding. Thank you Sarah and Jeff for allowing me to create these images in your beautiful space!
Ready for the photo tour of Heights House Hotel in Raleigh, North Carolina? Here we go! Let's start inside, the first area you and your guests would see upon walking in the front doors of Heights House.
It's clear that the restoration was designed with the beautiful intention of gathering people. It's home to 9 guests suites that can sleep up to 20 guests, making it the perfect spot for a Raleigh wedding weekend. The Honeymoon (or Bridal or Wedding party suite) is a two room beauty overflowing with natural light. Downstairs is furnished with a beautiful bar and many unique sitting areas. Drinks in the drawing room? Yes, please! As for your family and closest friends staying in the guest suites–nearly every room greets you with a fireplace giving the house an overly cozy and hospitable vibe. Every detail of this house and the guest experience was thought through. No stone unturned.
This would be a beautiful place for a first look, portraits and even an intimately sized ceremony. Married in a circle beneath the 1860's stain-glass adorned rotunda? Yes, please. Let's move into the parlor.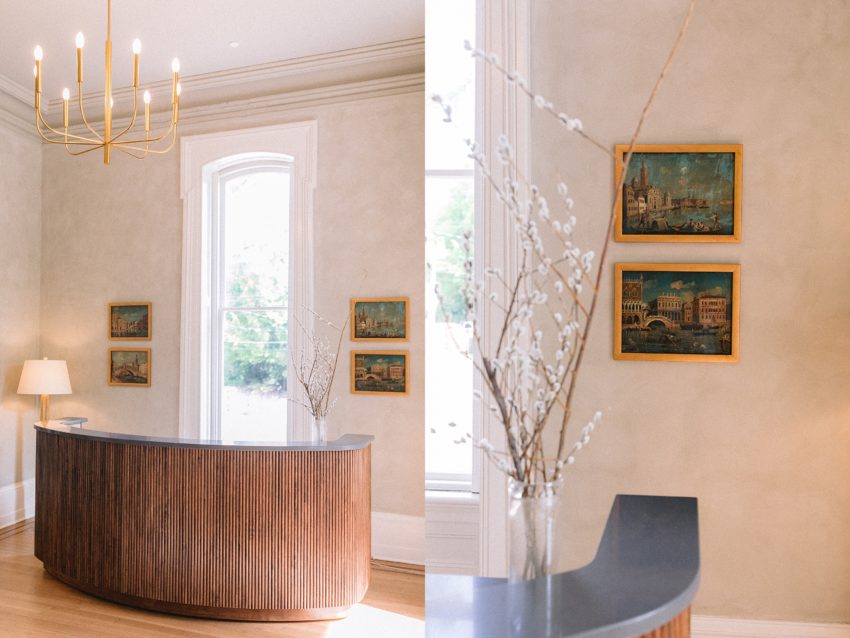 I know there are oodles of rentals available to couples for custom bars and cocktail area lounges. No rentals necessary here. I love the natural light in this room. The windows are a perfect vantage point and look onto the lawn. A clear sight line to what could be your reception on the front lawn. Let's move through the next arched doorway (with gorgeous pocket doors to boot) into the drawing room.
This room is another wonderful candidate for wedding photographs. Modern furniture for mulit-generational family portraits or sleek modern couple portraits. Wedding party portraits could also happen in here. The light is plentiful and the lime-washed walls are the perfect textural backdrop.
I'm told the drawing room will have some additional art added. Even without art I adored this room for portraits and a space for guests to enjoy a cocktail or an intimate conversation after supper on the lawn. Next let's head into the breakfast room. This one's an important one for weddings. It's an option for indoor dining as well as a dancing room/the dance floor for larger weddings.
The furniture in this room can be removed to accommodate a dance floor and reception space. The room is really the perfect size for a dance floor. Large and open dance floors can feel intimidating to guests. This room is perfectly intimate. I'll show you the arched room entrance that is to the left of this photo out of frame. It's a space that a musicians or a DJ could use for set up.
The musicians or DJ would set up right here in this door way, facing into the reception room. I see all kinds of possible decor ideas right there on those built in shelves! Dancing the night away on 1800's hardwoods restored to be modern and beautiful? Sign me up.
I'll show you some more details from the breakfast room as this space would lend it's self beautifully to an intimate dinner, a Sunday post-wedding brunch or even a brunch time wedding reception.
Before we head up stairs to the Honeymoon/Bridal/Wedding suite I'll share a few more photos of the library. Another gorgeous place for a first look, drinks alone before entering your dinner party and elegant portraits.
A favorite detail/art moment to enjoy as we head up the stairs.
The modern railings added to the arguably most signature feature of Heights House, the original rotunda. Also a wonderful vantage point for photographing an intimate ceremony, portraits, toasts or cake cutting below. Let's walk around the rotunda, through the bedroom and into the Honeymoon suite bathroom, lounge and getting ready area.
A perfect space to be photographed preparing for your wedding. Plenty of seating area for your favorite people to sit and talk. Natural light floods the room and of course a fireplace for that inviting cozy vibe.
It's a perfect place to spend your wedding day morning. You can smell freshly brewed coffee wafting up from the first story. You can peek out of the front windows and have a full view of the lawn. Picture your tent and tables being set up as you sit up stairs with your wedding party enjoying champagne and pampering. It's a short walk up the stairs to rest and reprieve after your wedding day and what a beautiful place to wake up in as a newly married couple.
Lastly, let's head outside so that we can see The Heights House Hotel and Venue manicured grounds.
Let's walk through some set up options for the front of the house. A ceremony set up facing the home would be stunning. As would a ceremony set beneath the century magnolias on the left side of the grounds (if you're facing the house). I also had the thought that you could host your ceremony utilizing the paved fire pit area.
Temporarily remove the chiminea and reimagine the circular stone area as the altar. Arrange your guest's chairs in a circle around the stones and give them a unique perspective to your vows. My husband and I were married in a ceremony this way. There is great symbolism in the circle as it pertains to marriage.
If your ceremony was to be held at the front of the house this would be your view as the gates opened and you walked down the aisle. Imagine guest chairs on the right and left of the brick path. You could stand at the same level as your guests or opt to walk up the stairs and be elevated. The property is nestled in beautiful trees giving you the private feel you'd want for a ceremony.
This is the view back down the "aisle"/brick path as seen from the front steps. I think it would be lovely to be introduced after cocktail hour, walk down the stairs to the path and enjoy your first dance right here.
This is a photo of the area on the lawn that a tent would be placed for a larger event (49+). The tree cover above is amazing and lends it's self to beautiful filtered light and cool shade for guests. I can't even imagine what fall is going to look like here! Even winter will be beautiful with the magnolias out front.
There you have it! A tour of The Heights House Hotel and Event Venue in Raleigh. I am so excited to photograph weddings here and encourage my couples to consider this beautiful venue not only for their wedding but also as accommodations for their wedding night as well as anniversaries and staycations. You can contact The Heights House for more details via their website.
If you'd like to schedule a complimentary virtual coffee date with me to talk more about my wedding photography availability you can do so here! Heart of NC Weddings is another great place for planning tools. Happy planning and congratulations! xoxo Jill